Swiss Pantry Menu
Sandwiches
Cajun Turkey Panini
Cajun Turkey Breast, Havarti Cheese, and homemade Sweet & Sour Sauce grilled on Swiss Pantry's famous Sourdough
5.99
Chicken Fajita
Seasoned grilled Chicken Strips, Provolone Cheese, grilled peppers and onions, topped with homemade Southwest Sauce and grilled on a white sub roll
6.99
Chicken Salad Sandwich
Homemade Pecan Chicken Salad on Swiss Pantry's famous Sourdough with lettuce and tomato
6.99
Reuben
Corned beef, Swiss cheese, Sauerkraut, and homemade Russian Dressing grilled on Swiss Pantry's Swedish Rye bread
6.99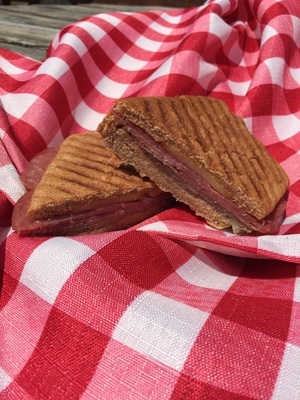 Swiss Pantry Special
Roast beef, Salami, Smoked Swiss Cheese, and Horseradish Sauce grilled on a home-made Wheat sub roll
6.99
Italian Panini
Ham, Salami, Pepperoni, Provolone Cheese, and Oil & Herb Dressing grilled on a homemade Italian Parmesan sub roll
6.99
Chicken Bacon Ranch
Seasoned grilled Chicken Strips, Havarti Cheese, Bacon, lettuce, tomato, and Ranch Dressing grilled on a white sub roll
6.99
Mediterranean Turkey Wrap
Your choice of a Garden Spinach Herb, Whole Wheat, or Flour wrap, stuffed and grilled with Turkey Breast, Roasted Red Pepper Hummus, lettuce, tomato, and oil & herb dressing
6.99
Ham & Swiss Panini
Ham, Swiss Cheese, and Spicy Mustard grilled on Swiss Pantry's famous Sourdough
5.99
Roast Beef Special 
Roast Beef and Green Onion Cheese on a homemade Whole Wheat sub roll with Sweet Pepper Relish
6.99
Turkey Ham & Bacon Club
Turkey Breast , Ham, and crispy Bacon on your choice of our famous Sourdough or Whole Wheat Sub Bread topped with lettuce, tomato, mayo, and mustard 
6.99
BLT
Toasted Sourdough with leafy green lettuce, tomatoes, mayo, Cheddar Cheese, and crispy Bacon 
5.99
Grilled Cheese
Your choice of Cheese grilled on our famous Sourdough
2.99
PB & J
Creamy Peanut Butter and your choice of Grape or Strawberry Jam on our famous Sourdough
2.99
Soup
We have different soups available during the fall and winter seasons.  We have homemade Broccoli Cheese, Cheesy Potato, Chili Soup, Brunswick Stew, Taco Soup, Cheeseburger Soup, and Cheesy Tortellini.  Call 931-962-0567 to find out the soup of the day.
Make it a COMBO
Choose a side or regular bag of chips PLUS your choice of a canned soda, Kutztown bottle, or Bottled Water.  Add $2.80 to  your choice of sandwich.  Side options: Baked Potato Salad, Deviled Egg Potato Salad, or Homemade Italian Pasta Salad (call for availability as we sell out fast!)
2.80
Make it a JOE'S
Choose a JOE'S bag of chips plus a JOE'S BOTTLED drink.
9.99
Made to Order Subs
Tell us how you would like it made! 
Sub Bread
Your choice of White, Wheat or Italian Parmesan
Bread
Swedish Rye or Sourdough
Choose 1 Cheese
American, Provolone, Havarti, Smoked Swiss, Hot Pepper, Swiss, Green Onion, Mild Cheddar 
Chose 1 or 2 Meats
Cajun Turkey, Corned Beef, Ham, Roast Beef, Pepperoni, Salami, Sweet Lebanon Bologna, Turkey Breast
Extra Meat        $0.50
Extra Cheese    $0.50
Add Bacon        $1.00
See Description
Any Vegetables
Lettuce, Pickles, Spinach, Banana Peppers, Tomato, Black Olives, Onion, Jalapenos, Green Pepper
Any Dressings
Mayonnaise, Yellow Mustard, Oil & Herb, Sweet & Spicy Mustard, Horseradish Sauce, Russian Dressing, Sweet & Sour Sauce
5.99